Style Your Gift Wrapping
Posted On 2020-12-05
Christmas is quickly approaching and we are feeling the holiday spirit. With that being said, some of might already have gifts all figured out, BUT are they wrapped? Using bags are easy but if you feel like impressing friends and family, we've got some wrapping tips for you! Continue reading for some tips on wrapping with style this year.
MATERIAL
Tip 1: Pick a material that doesn't stand out more than the ribbon.
Have you ever heard of those books in bookstores that are wrapped in brown paper so you have to pick a book by its name and not its cover? Well this is similar to the next technique. The plain brown paper gives a sense of extra surprise when you open the present. Lower the expectations for a bigger reaction people!
By picking a neutral wrapping paper for your base, you have opportunity to layer. But we'll soon get into this topic.
What's really hitting the market is fabric wrapped gifts as these are reusable and readily available. Better yet, no tape is necessary for this technique! Instead, the corners can be tied together for a boho chic aesthetic. Check out the clip below of how to do this with minimal supplies.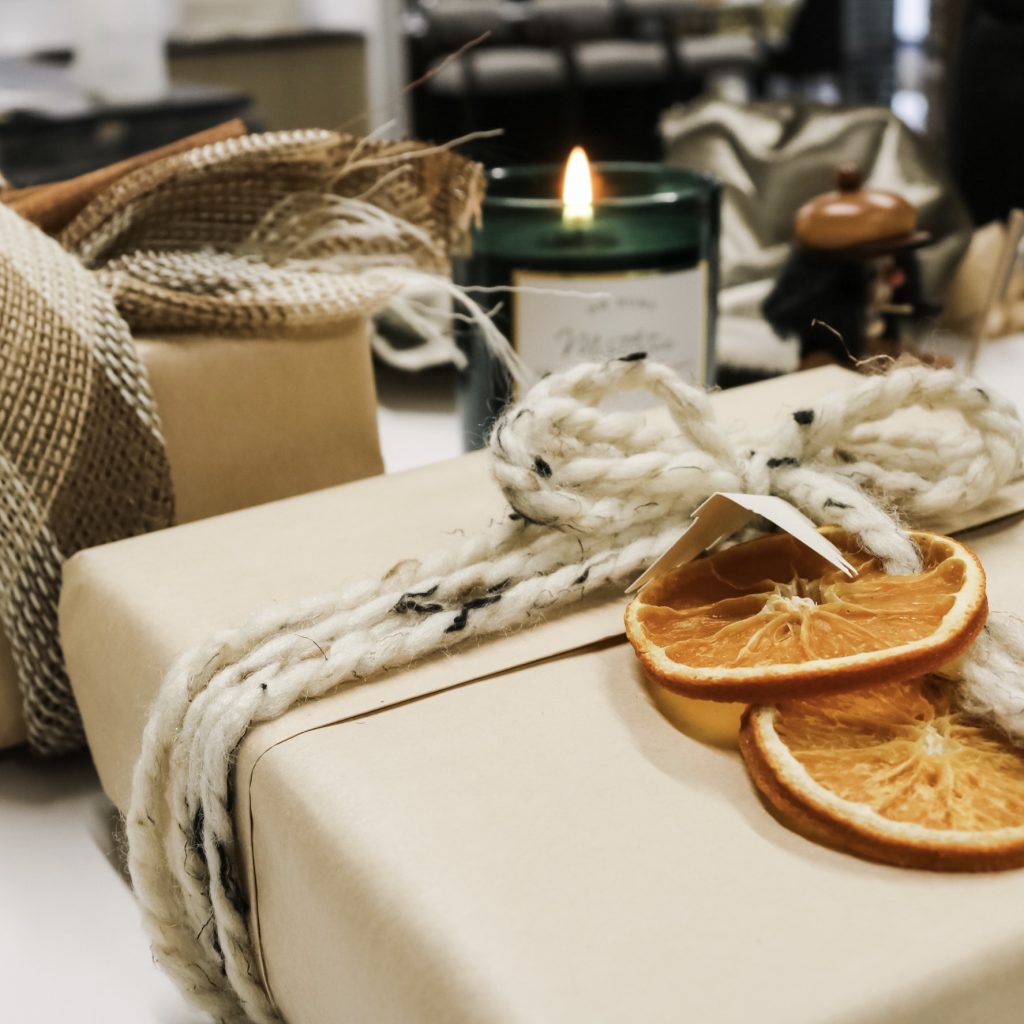 And what about those bulky gifts like duvets and blankets? Fabric wrapping these gifts is a great option because you can still style it like a boxed gift, but it won't rip when you are wrapping it! In this scenario, we had a comforter to wrap. A shimmering velvet fabric was perfectly subtle and festive for the occasion. While tying the ends was an option, we decided to use some scarp Velcro to tack the ends for a cleaner look.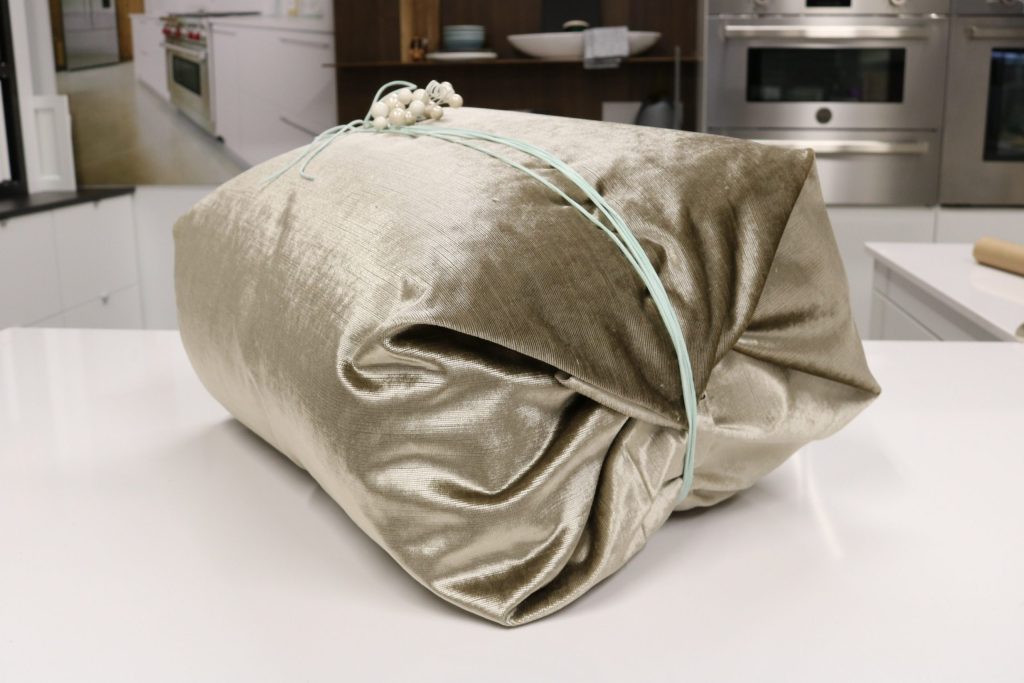 LAYER
Tip 2: If plain paper isn't your style, try stamping or painting your paper.
The great thing about plain wrapping paper is that you can layer other materials together, and that is where your personality can shine. Going back to tip #2, stamping or painting your paper in a simple pattern is a way of layering if you feel that plain wrapping paper is too boring. Otherwise, here is more layering inspiration for you: yarn, leather, burlap, paper, paint, newspaper. Layer in some embellishments too! This is prominent in wrapping because it adds depth and texture to the wrapping. We ended up wrapping yarn and leather around the boxes not just once but numerous times because again, we like to layer, especially when there isn't a lot of supplies in the house!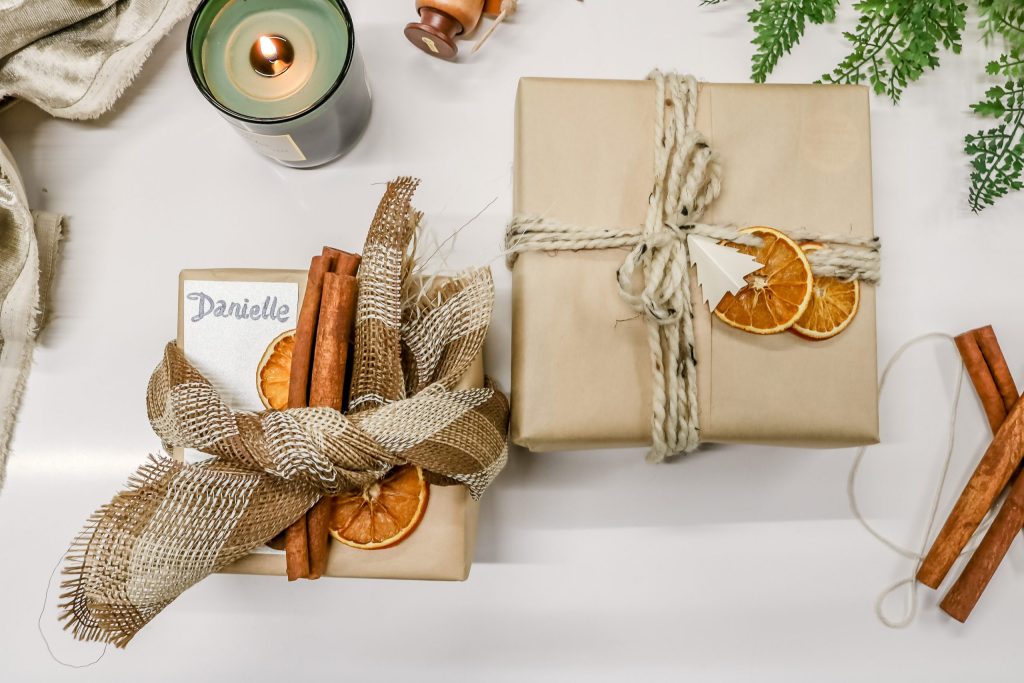 NAME TAG
Tip 3: Think about how you will display names on the gift before wrapping.
So how can you make a name tag look nice? Instead of leaving the name to last minute scribbles, think about how you can incorporate the name into the design. This can be done using ink, stickers, pictures of the person receiving the gift, etc. We love how elegant and minimal calligraphy can be so that's what we did here.
On the second gift, we took a different take on the hallmark name tag by cutting out a tree from some cardstock and folding it in in half. Super simple and chic! The same technique could be used with any shape, but we liked the extra Christmas cheer with this one.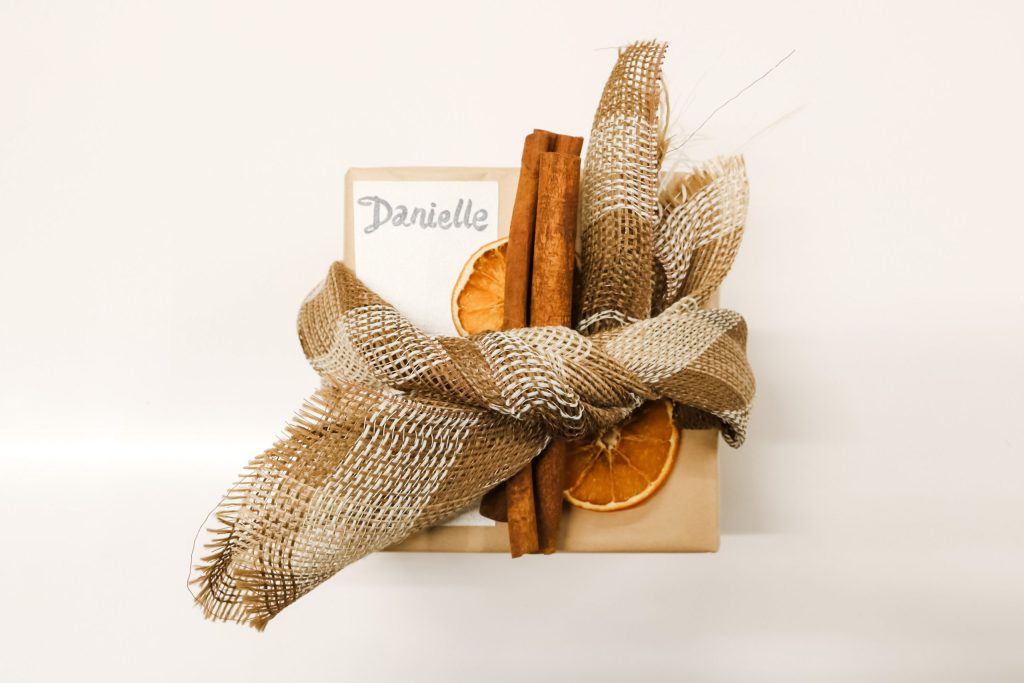 GARNISH
Garnish is a great metaphor, so bear with us. When you order a quality cocktail, you would expect a finishing touch that goes with the theme of your drink, such as lemon zest or rosemary to name a couple. I mean, if you're going to spend $13 on a drink it better look nice, right? Just like garnish, embellishments are by definition, "a decorative detail or feature added to something to make it more attractive." To add some class to your gift wrapping, you're going to want to add some final touches that wow the person receiving the gift. This could be a bow… or you could take the opportunity to add something more interesting!
Tip 4: Use biodegradable items since this is the piece of the gift wrapping that really doesn't serve a purpose other than looking pretty.
Warning!! The following ideas are affordable and trending! Using only one orange, we were able to make dried fruit embellishments to finish off one boxed gift. This is a minimalistic option and you can mix and match this with other gift wrapping techniques. We took liberty in adding cinnamon sticks for another gift. If you have any overused Christmas tree or wreath decorations, use them in your wrapping like we did for our comforter wrapping paired with leather. It really doesn't need to be much!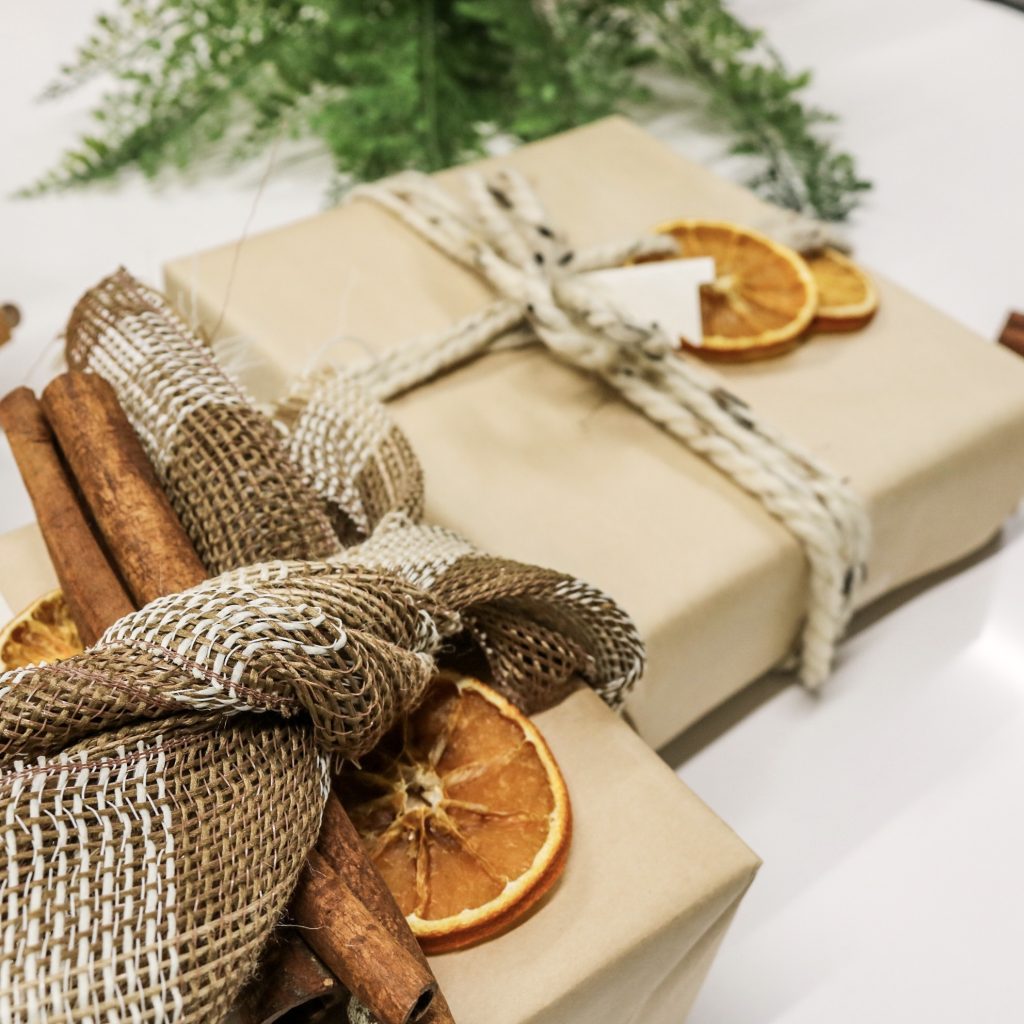 You may have noticed that we didn't include too many materials – in fact, we pulled everything from what we already had. So grab all your craft supplies, get creative and put some extra excitement into gift wrapping this year with our tips! Happy Holidays!
The DE Team! xo